Nowadays with more inclination toward work-from-home scenarios, people are putting great emphasis on upgrading the home office look. Remote jobs have made it mandatory to have a lively workspace at home that helps boost one's productivity and caliber. There are a lot of things that are included in creating an official work atmosphere at home such as:
Choosing a room that is away from chaos
A fresh space that is free of clutter
Access to Natural light
Comfortable furniture to sit on and place the laptop
A place that has minimal distractions
These are the most important things that one has to count on for choosing a workspace for themselves at home. Apart from this, one must also look for a space that has perfect windows and custom window blinds in Calgary that intrigue the look and feel of the room. Here in this blog, we will tell you stunning ways one can upgrade a home's office look with window blinds, so let's have a look: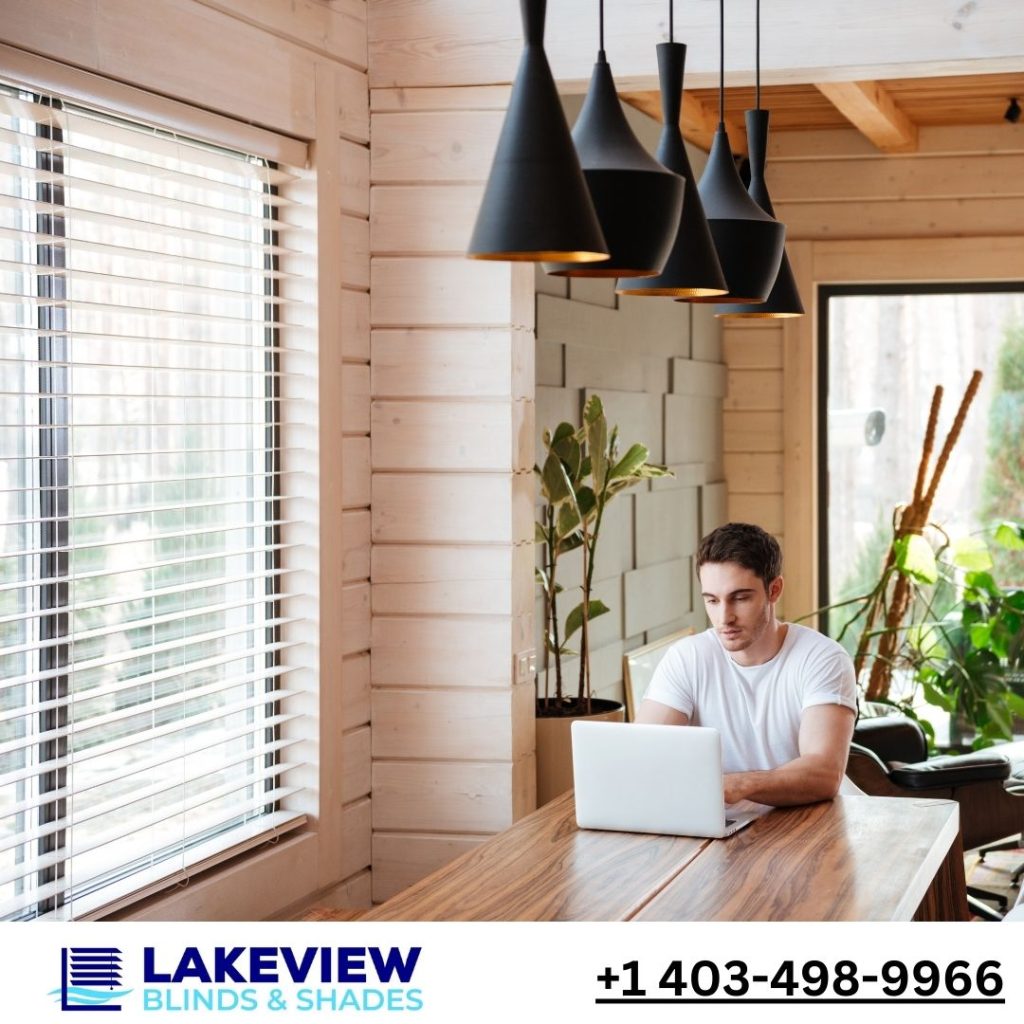 Minimize distractions with Blackout Blinds
Blackout blinds help to reduce outside distractions and create a productive workspace. These blinds let you maintain a professional ambiance even during irregular work hours and are ideal for video calls and concentration-demanding tasks. So, you can choose this category of blinds to create an ideal work atmosphere in your home.
Go for customized window blind solutions
Choose window coverings that provide individualized privacy solutions to meet your specific privacy requirements. You can still enjoy natural light while controlling the view into your office with top-down or bottom-up blinds. This flexibility is particularly useful in communal living environments.
Integrating Greenery
When you combine window blinds with your indoor greenery, you can create a peaceful connection with nature. Think about installing blinds that go well with the color scheme of your plants to bring the outside in and create a peaceful, refreshing feeling. This will help you feel relieved and revived from the daily work chaos which is the part of work culture in the office.
Instill Creativity with Patterened Blinds
Consider adding some artistic flair to your workstation by selecting patterned blinds. Whether they have large prints or delicate geometric patterns, patterned blinds can enhance the visual appeal of your home office to a great extent and can create a more dynamic and extremely motivating workspace.
Chose Smart blinds for Smooth Control
For all the office workers out there, it is beneficial if they use smart blinds for their workstations at home. Such as by adding motorized window blinds, you can embrace the convenience of smart home technology. You can effortlessly adjust the blinds to regulate light, privacy, and ambiance with a button press or voice command, providing a seamless and technologically advanced work environment.
The Key Takeaway
In the end, we can say that creating a good work ambiance at home is not tough if you have the required knowledge on how to build one. You can opt for the perfect window blinds for your home office by asking experts such as from Lakeview Blinds & Shades professionals. Otherwise, choose for the custom window blinds in Calgary services for the best results. Knowing the ways how you can transform your home into a great workspace, can work wonders in making your remote job unleash better financial profits for you.